Students of all ages can use a little help with their handwriting. In the age of tablets and smartphones, more time is spent with single finger (or thumb) dexterity rather than whole hand uses like coloring, cutting, and painting. Holding a crayon, marker, or paintbrush (activities that are common precurosers for handwriting) just don't happen as often anymore.
So what can we do about it? How can we help our students improve their handwriting?
Here are ten effective ways kids can work on their handwriting skills:
Get the Right Grip!
Learning a proper pencil grip is important. If grip is a problem, try some of these ideas:
2. Make your own rainbow loom grip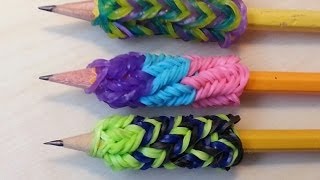 Find Directions Here
4. Go for comfort with an ergonomic gripper
Practice, Practice, Practice!
Practice doesn't necessarily make perfect, but practice does make progress. If your students are gripping correctly, then give them time for guided practice.
6. Let your lines be your guide
Have some fun!
10. Build fine motor skills!
Do you have other strategies you like to use? Share them in the comments section below!