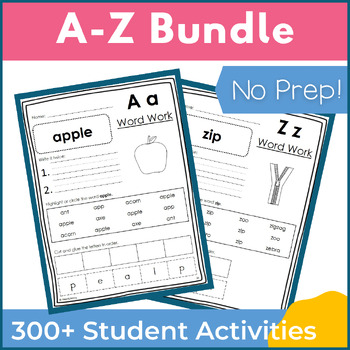 One of my best selling packs is my NO PREP Letter of the Week A-Z Bundle. It offers a year's worth of lessons on letter naming, letter identification, and letter-sound correspondence while also building vocabulary, handwriting skills, and word building skills.
Until recently, I've kept this pack as a year-long bundle. However, I've had several requests for it to be broken up by letter, so without further ado, here are the NO PREP Letter of the Week packets:
Each packet includes 12 activities plus a bonus take-home BINGO game to help build the school-home connection and extend learning at home in fun ways. I use these packets with grade-level and below-grade level kindergartners as well as an RTI intervention with 1st graders.
Also, I am offering the NO PREP Letter of the Week T Packet for free! You can download the whole packet for free here: Free Letter of the Week Packet.
FREE!
If you like it, check out all of the other Letter of the Week Packs or the Year-Long Bundle for 20% off!
Happy Teaching!